As you may already know,  a significant part of the vehicle transportation industry is taken up by car and motorcycle shipping and when it comes to heavy hauling, it is rather hard to find a company experienced in this field. Heavy equipment shipping is a difficult task to perform. Therefore we have prepared this helpful shipping guide covering the following questions: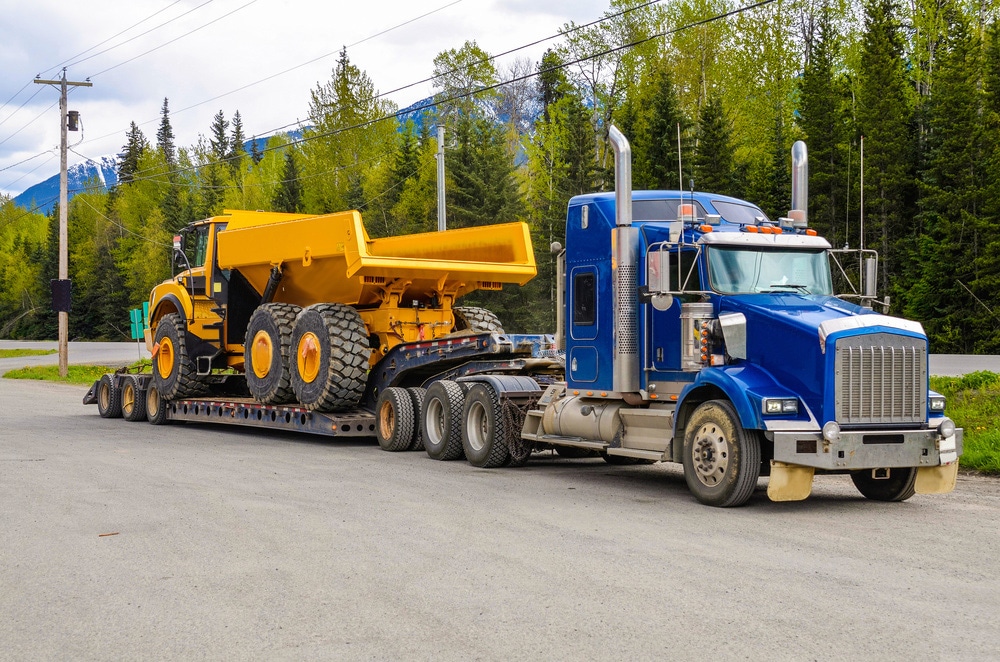 Heavy hauling is the kind of shipping vehicles or any kind of equipment that exceeds weight restrictions of 18 000 lbs (gross weight).
Besides that, if the vehicle is not that heavy but is more than 15 ft long, 7 ft wide, and 8 ft high it is also considered an oversized cargo and should be shipped on a special trailer. Buses, travel trailers, RVs, yachts, some kinds of boats, and engineering vehicles are bright examples of such cargo.
How To Ship Heavy Equipment?
Choosing the right company to ship your heavy equipment is crucial as you may lose time and money because of that. Another pivotal question is choosing the right trailer, but that is the question the company should care about. If the company does not ask you about the vehicle's condition, size, modifications, choose another one as they probably just want to get money and do not really care about the transportation.
Here, in Moverjet Logistics, we ask our customers to provide us with as many details as possible, so we will be sure about the vehicle's size and condition to decide what trailer is required.
Basically, there are 3 main trailer types for heavy hauling: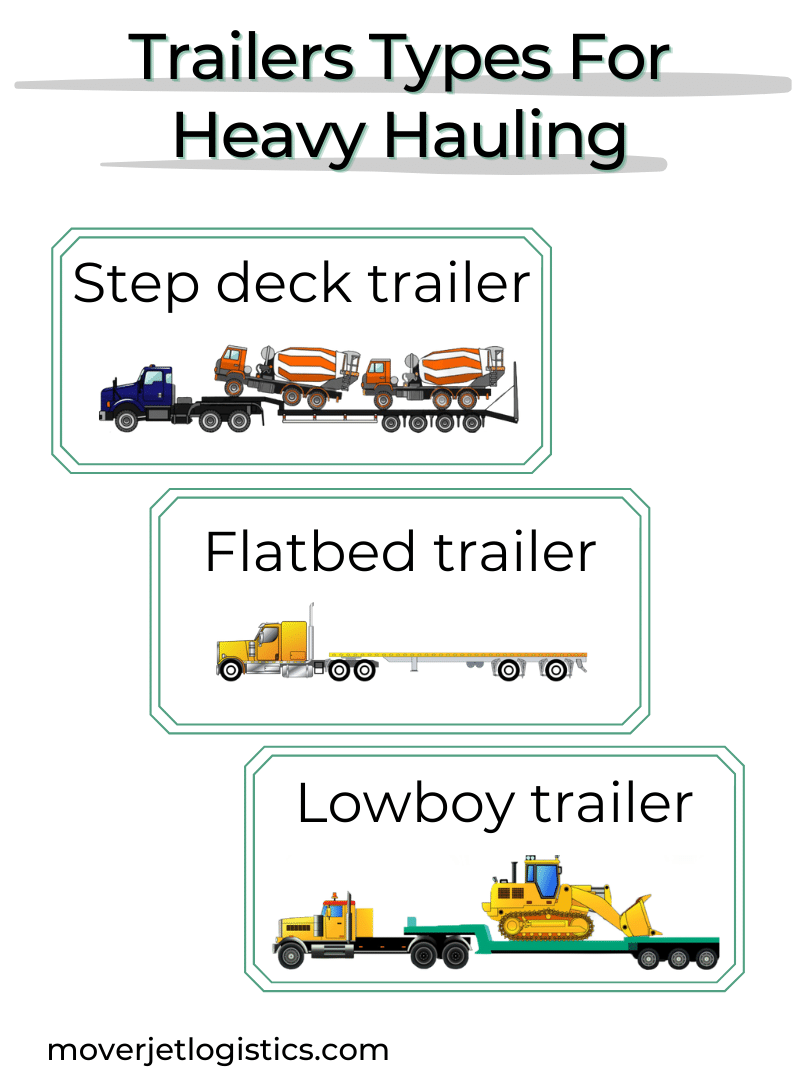 It has a deck with two levels: a lower deck which is 37 ft long and an upper deck which is 11 feet long. Also though the standard length of the step deck trailer is 48 ft, oversize loads can be hauled on trailers of 53 ft long. The maximum drop deck freight weight is 48,000 lbs and the maximum load height is up to 10 ft for the lower deck and 8.5 ft for the upper deck.
It is usually up to 48 ft long and 8.5 ft wide. As well as the step deck truck, flatbed trailers can also carry cargo up to 48,000 lbs but with a height under 8.5 feet.
This type of trailer is most commonly used for heavy vehicle hauling since it has very low ground clearance (6-8 inches). The height restriction for loads on this trailer is 12 ft, while the maximum weight is 40,000 lbs but by adding additional axles it can be increased up to 80,000 lbs.
Besides that, if your freight is more than 12 ft high, it can still be transported but with a special escort service.
How Much Does It Cost To Move A Heavy Load?
Hauling any kind of vehicle that is not of a standard size requires more time and also an individual approach. Besides that, the cost varies greatly depending on the factors such as the size of the heavy load, availability of the required type of trailer on the route, weather conditions, and mileage.
Based on the previous orders we have shipped, we made the table below so you can see the estimated rates for the transportation: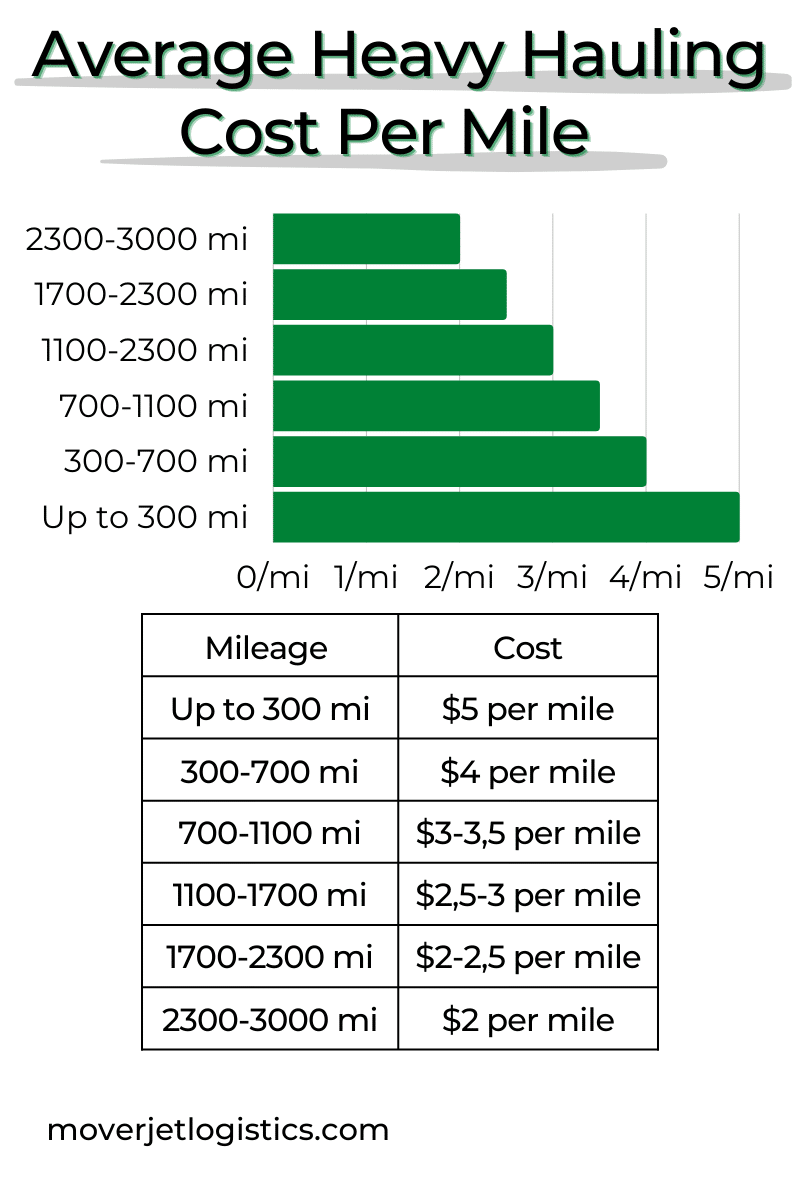 Heavy Equipment Shipping Preparations
Before shipping any kind of heavy equipment you have to prepare it according to the standards required for its type. Even though the carrier company holds most of the responsibility for the shipping process, the preparation depends on you solely and if the damage is caused because of the insufficient preparation process, the carrier company will not hold responsibility and its insurance company will not cover anything.
We highly advise you to prepare your vehicle according to all the requirements and start with some simple things:
– Contact the manufacturer to get proper packaging or advise on shipping preparation ;
– Disconnect the alarm system;
– Secure or remove all loose parts;
– Cover the parts that should not be exposed to weather conditions;
– Make sure there is lots of room for the driver to park his trailer and load the equipment.
For the perfect shipping service that will not take all your time and will not turn into a headache, get a quote via the link or simply call at 302-244-5512. Our professional team of shipping managers can help you ship any kind of heavy load: whether it's a bus, yacht, or backhoe.