Looking for a company to ship a non-running vintage car or maybe you buy inoperable cars to fix and sell them afterward? Whether it's a new or a classic inoperable vehicle, we can move it for you in 3 simple steps. We have prepared a brief but very informative shipping guide.
You may just scroll below and check the whole article or here are some quick links for you to navigate through: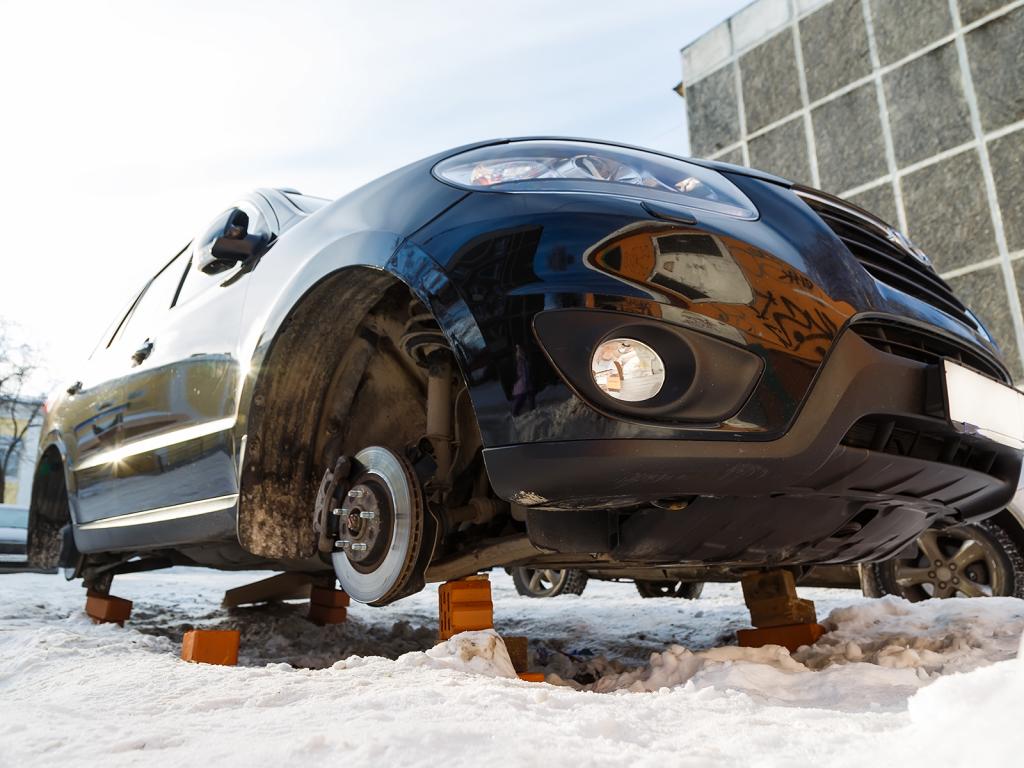 What Vehicle Is Considered To Be Non-Running Or Inoperable?
Before we talk about estimated pricing for shipping and how it all works, let's clear out what vehicle is considered inoperable.
You may probably think that any non-running vehicle is inoperable. That is actually true, but for carrier companies, everything is a little bit more complicated. They divide inoperable vehicles into 3 main groups: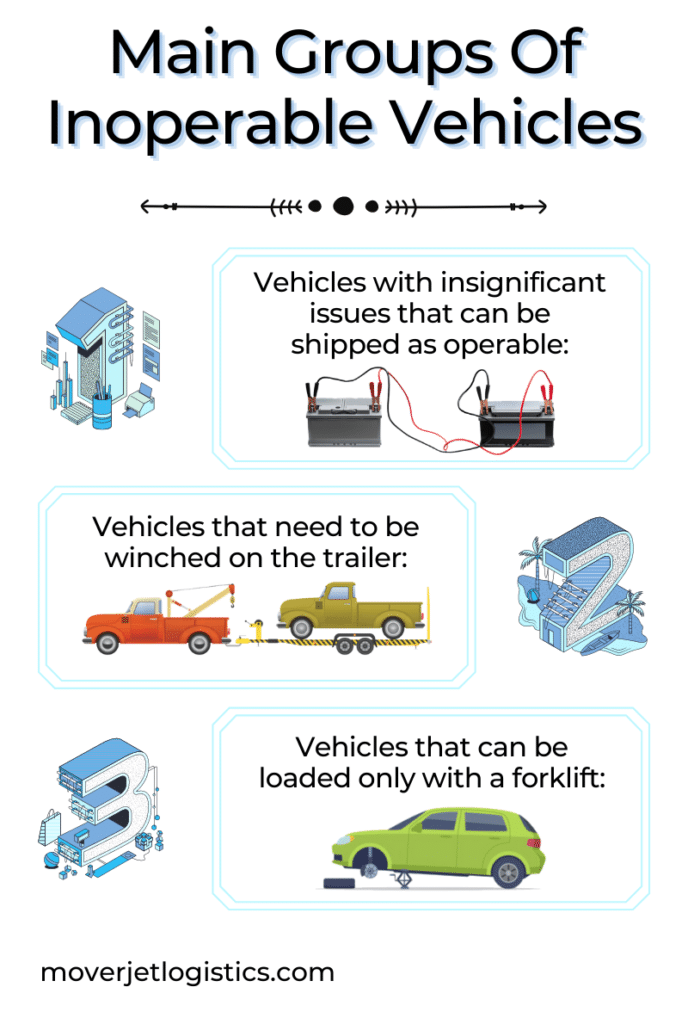 – Those that have insignificant issues and can be shipped as operable:
A vehicle with a dead battery is a good example of this group. The driver can easily jump-start the car to load it on and off the trailer, so the car will be shipped as if it's fully operable. In this case, no special trailer is required and the driver may only ask for an extra $50 for his job.
– Vehicles that need to be winched on the trailer:
If the car you are shipping rolls, breaks, steers, but does not start, the driver will use a winch to pull it on the trailer.
– Vehicles that can be loaded only with a forklift:
If the car doesn't brake, roll, start, steer (like salvage vehicles), the carrier will need a forklift to load the vehicle.
Now let's check the cost of shipping inoperable vehicles.
How Much Does It Cost To Transport An Inoperable Vehicle?
First of all the price depends on the following factors: mileage, season, size, weight, and condition of the vehicle. The vehicle's condition and operability plays a huge role in price formation since the cost maybe $100-$500 higher than for an operable vehicle.
The price can differ that much because inoperable vehicles are usually transported on smaller trailers with only up to 6 vehicles moved at a time.
If the inoperable car needs to be shipped for a long-distance (more than 1600 mi), the cost may be even higher since rarely the driver can find more than 2-3 inoperable cars going the same direction, so all the expenses should be covered by two-three customers only.
To give you some idea of the cost, we have prepared the table, where you can find some information about our orders with inoperable shipments, including the route, name of the vehicle and of course the rate.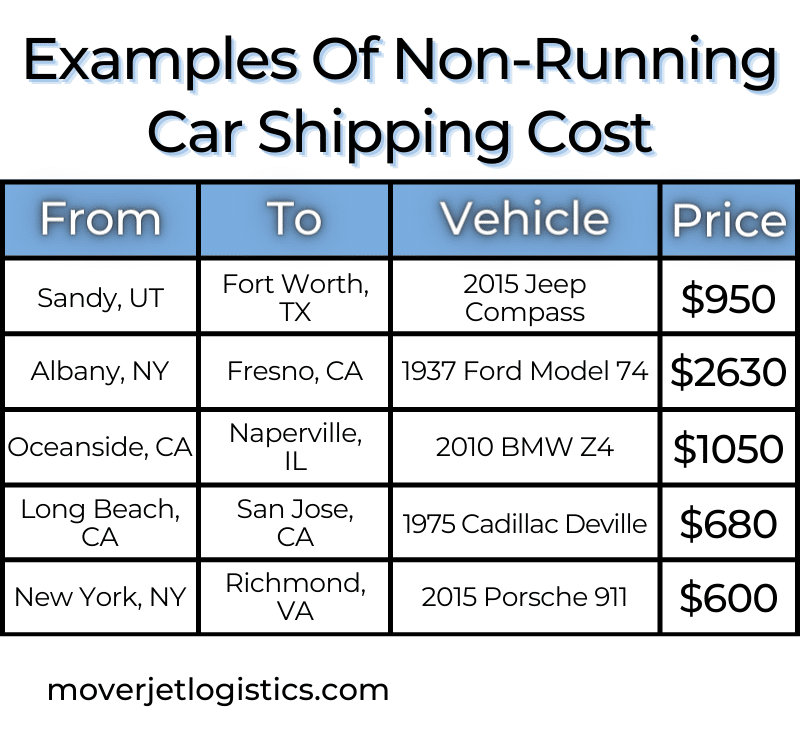 Shipping Non-running Vehicles From Auctions
Very few companies have lots of experience or enough resources for shipping inoperable cars, especially for long distances. We started shipping cars in 2010 and since then we have created our own database of carriers shipping non-running cars.
Shipping inoperable cars from an auction is easier in a way since the auction can provide the driver with a forklift to load the car on the trailer.
But despite this fact, only a few drivers are willing to do the job when it comes to transporting cars from auctions. It happens so since drivers have to wait in a long queue waiting for the car to be released.
Sometimes it even takes almost the whole day. And if it suddenly turns out that the car cannot be loaded with the winch or it's larger than expected, the driver will leave the auction with nothing. That is why we kindly ask our customers to provide us with all the details and modifications that affect the vehicle's size and weight.
Inoperable Auto Transport Tips
– Check and if possible find out what is wrong with the vehicle;
– Choose the shipping company wisely. Opt for the one that clearly states they can move inoperable vehicle;
– Make sure you mention all modifications the vehicle may have. Provide your shipping manager with all the details on your vehicle's size, condition, and operability.
– Make sure that the car key is at the pick up location, otherwise, the driver will not be able to put the car in neutral and pull it onto a trailer with a winch;
– Do your best to have enough time for meeting the driver at the pick-up and drop-off locations as loading the inoperable vehicle may take more time. Make sure you have as much room for the driver as possible so he can properly park his trailer to load your car onto the trailer.